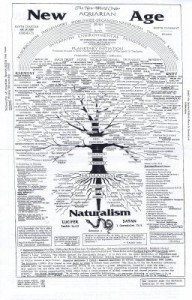 As an appreciation to viewing my page, I would like to offer you a FREE pdf poster of a fascinating chart Constance Cumbey, author of "Hidden Dangers of the Rainbow," sent me and said I could pass it on to others.
It is called the "Cuddy Chart," made available by Dennis Cuddy and carefully developed and designed by his mother, Peggy Cuddy. This chart traces the line of religions, philosophies, and agendas to the root so you can see its many branches of the network of the New Age movement. The New Age in the modern era has been developed by Alice Bailey and Lucis Trust. They are the esoteric gurus of modern day witchcraft, known as the Theosophical Society.
The Lucis Trust is the Publishing House which prints and disseminates United Nations material. It is a devastating indictment of the New Age and Pagan nature of the UN. It once was located at 666 United Nations Plaza, and is a member of the Economic and Social Council of the United Nations under a facade program called "World Goodwill". They are promoters of One World Government and the New World Order.
If you would like to receive a full size copy of the chart, simply click the link below to send a blank email. It will be sent to you in a .zip file via email response.
Thank you.
Your information is not shared with any outside agency or company.