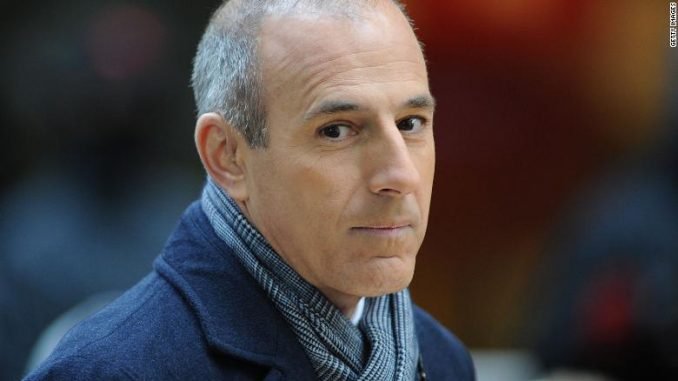 After an employee filed a complaint about "inappropriate sexual behavior in the workplace," Today show host Matt Lauer was fired from the network. Later in the day, Variety published a story containing additional sexual harassment allegations against Lauer. The story cited accounts from three unnamed women, according to CNN.
At first the network claimed it had not received complaints before this. However, the nature of this complaint had been too verifiable to dismiss. Variety reporter Elizabeth Wagmeister said on Twitter that she had been pursuing "serious sexual harassment allegations against Lauer" for two months.
Though while the network claims it had not received a complaint before, it appears Lauer's behavior was not isolated, or unknown. Allegations were made that NBC News protected Lauer, as several had complained to executives at the network about Lauer's behavior, which fell on deaf ears given the lucrative advertising surrounding 'Today.'"
According to interviews, the reputation of Lauer's inappropriate sexual behavior was known. Megyn Kelly knew it. Katie Couric mentioned his butt pinching years ago in an interview. Meredith Vieira knew it when she asked about the erotic sex toys in his office. But no one would do anything about it? Perhaps told no one is to talk about it? Well perhaps that is why a woman was forcibly raped by him and that is what brought this out. In essence by keeping quiet they allowed this to happen.
The environment of media and entertainment is toxic. This sort of thing goes on all the time. As we have recently had reports that CBS News fired one of its own morning anchors, Charlie Rose, after a report in The Washington Post chronicled years of alleged sexual misconduct on his part. The New York Times and The New Yorker previously reported on allegations against the Hollywood producer Harvey Weinstein.
Since then, actors Kevin Spacey and Louis C.K. have been suspended or removed from projects after allegations against them became public. And other prominent journalists, including Mark Halperin of NBC and Michael Oreskes of NPR, have been fired or suspended from their jobs.
Earlier this month, NBC News fired Matt Zimmerman, a top talent booker at the network who worked at "Today," over allegations of "inappropriate conduct."
The networks are Elite. They owned by Elite. And they attract and breed Elite. Powerful people in positions of pride and lusts who become thinking they are invulnerable. The nature of the industry.
While the network protected and enabled such activity, we have to wonder if some of the women deliberately kept it quiet and tolerated such behavior to overlook it for the gain of their career. The industry is known for its predatory activity. It is a toxic environment that opens doors to this sort of thing, as well as those who will use their sexuality to gain advancement. Tolerating a little discomfort may get you in the door of higher executives. Some enjoy the opportunity.
Doesn't sound like some are that uncomfortable and will desire to tolerate it if it means they can continue rising to the top. Then some will turn on a has-been after his usefulness is worn. Geraldo Riviera tweeted, the industry is a filthy one.
There are those who say that a woman might be intimidated to report it to save her job. That they may be saving their job by not reporting it. Then there are some who protect the perpetrator to not make waves. But who wants to tolerate such creepy and inappropriate behavior and hide it to keep their job? If women are uncomfortable, they should either make a serious case to report it, or leave the industry.
But to save your job while enabling it to continue may be contributing to the problem? In this case, if a rape could have been prevented, but wasn't because some failed to report it, then maybe they have indirectly contributed to the incident and enabled the pervert. It should have been stopped, by the network and by other women, who should have surrendered their immediate gratification of success.
But the ones who filed a complaint and attempted to report Lauer, they were unheard. The network silenced them. Some women feel threatened. This is shame on the network and the industry that enables such activities. And there are those who have been conditioned to accept it. The network should be brought up on charges, or at least penalized. Women who are truly victims should have recourse. No woman needs to be in a threatened position. And the victims need to know it is always all right to report such workplace misconduct.
There is another issue we do not want to see happen. We do not want the rising of cases of frivolous accusations of those taking advantage of their position to make charges against men for innocently complimenting a woman. Or for making non-threatening flattering comments. And some women who entice men, then want the control to turn it off so they can gain leverage. That must also not be overlooked.
There is an underlining effort to emasculate males and make a dominance of a female principle. This will disable some men and put them in fear of being accused of harassment for every little thing that is said. It also gives the advantage of dominant women who will use this as a tool to get ahead or save their job, and to rule over the man. This is a pagan principle of goddess worship that is increasingly becoming prominent.
See source: Matt Lauer fired from NBC News after complaint about 'inappropriate sexual behavior' – Nov. 29, 2017